<!-ShowPage(index.html)->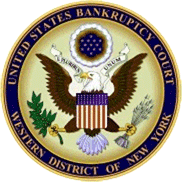 Welcome to the U.S. Bankruptcy Court for the Western District of New York
<!-ShowPage(LocalNYWB.htm)->
---
<!-ShowPage(OperationNotice.htm)->
---
This is CM-ECF Version 5.1

---
Please be advised that CM/ECF will be unavailable for filing from 6:00 p.m. on Monday, November 30, 2015, through 9:00 a.m. on Tuesday, December 1, 2015, to update the system to incorporate the 2015 amendments to Official Forms. Please plan accordingly.
---
PLEASE BE ADVISED THAT NEW BANKRUPTCY FORMS BECOME EFFECTIVE ON DECEMBER 1, 2015. THESE CHANGES
AFFECT NEARLY ALL OFFICIAL FORMS, INCLUDING THE PETITION AND SCHEDULES, AS WELL AS DIRECTOR'S PROCEDURAL
FORMS.
YOU MAY SEE THESE CHANGES AT USCOURTS.GOV. YOU SHOULD CHECK WITH
YOUR BANKRUPTCY SOFTWARE PROVIDER FOR UPDATES TO THE SOFTWARE TO INCORPORATE THESE CHANGES.
---
---
31March2012